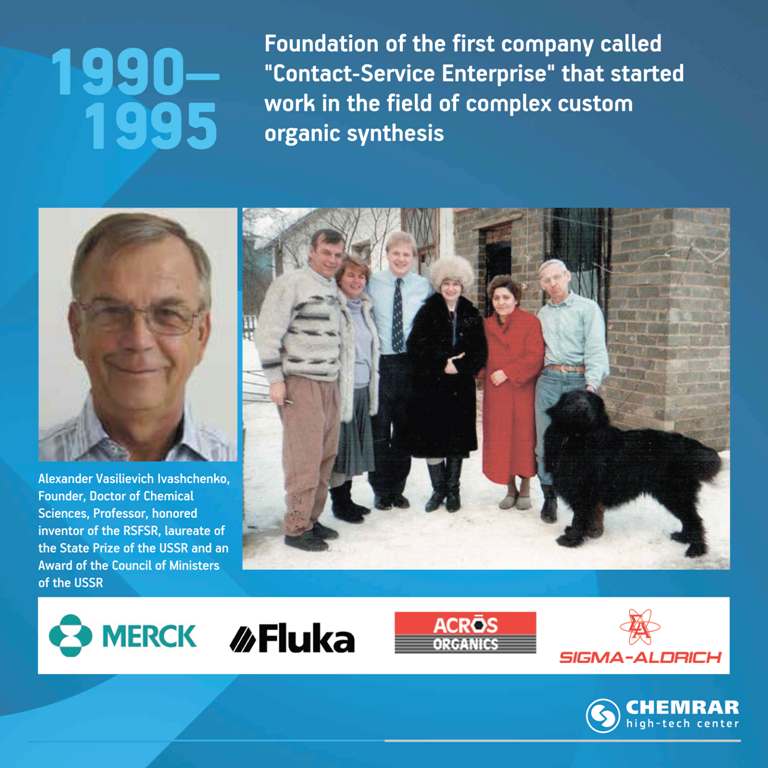 The story of ChemRar Group starts in 1990 and is associated with the name of the founder and scientific director Alexander Vasilievich Ivashchenko, Doctor of Chemical Sciences, Professor, honored inventor of the RSFSR, laureate of the State Prize of the USSR and an Award of the Council of Ministers of the USSR.
In 1990 Alexander Ivashchenko founded the first company called Contact-Service Enterprise that started work in the field of complex custom organic synthesis for such scientific companies as Aldrich, Fluka, Acros, Merck etc.
Since 1995 the chemical laboratory of the Contact-Service Enterprise was one of the first in the world to explore methods of parallel and combinatorial synthesis of organic compound libraries for high-throughput screening in modern biotargets to determine their biological activity. From this moment, a rapid development of international cooperation with the leading biotechnological and pharmaceutical companies began in Europe, America and Japan.