GxP Engineering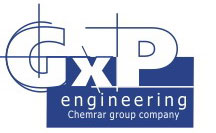 The company "GxP Engineering" was formed by the Hight-Technology Centre "Chemrar" in 2010.
The purpose was to separate the engineering department of "Chemrar" into a freestanding business unit, which should fully implement the vast long-term experience in planning and survey, building and installation, and services activities in the field of pharmaceutics and biotechnology.
Our highly qualified employees are experienced in engineering of "clean" manufactures in accordance with GxP requirements. Specialists of GxP Engineering continuously improve their skills. Key staff members of our company are the world leading specialists in the sphere of "Pharmaceutical technology under GMP conditions".
OUR COMPANY "GXP ENGINEERING" OFFERS THE FOLLOWING SERVICES:
ENGINEERING & CONSULTING::
Formulation of requirements on organisation/modernisation of manufacture and laboratory research
Facility audit to check for compliance with GMP-standards
We offer the opportunity for cooperation with "Chemrar" CG on elaboration of a drug pipeline for recently developed/current processing lines, conduction of preclinical or clinical trials, compilation of drug master files for proposed medicinal products and its submission
DESIGN:
Capital construction projects in pharmaceutics, biotechnology, chemistry, fine organic synthesis, medicine as well as public facilities
Engineering networks and services
Implementation of technology processes and plots. Passing through the state expert review
Passing the state examination
Selection and supply of manufacturing equipment, materials and components, purpose-designed furniture also for clean rooms construction
MAIN ADVANTAGES WORKING WITH OUR COMPANY:
We are the specialists in pharmaceutics, biotechnology and preclinical research including the construction of SPF animal facilities
We are major experts in technology of pharmaceutical production, audit and DQ project documentation
Our employees gathered a vast experience in the branch in such companies as OAO GIPRONIIMEDPROM, OAO GIPRONIIBIOPROM, OAO GIPRONIIAVIAPROM, OAO MOSELEKTRONPROJEKT, OAO Binom, OOO Blok
At the planning stage it could be decided, whether the customer will use the own equipment or we can assist in selection of machinery and materials according to our experience
We offer the optimal quality/price ratio in construction of turnkey clean rooms