Avifavir obtains its first registration in Asia
Indonesia registers Russian drug with proven clinical efficacy against coronavirus
Avifavir was the first Favipiravir-based drug in the world approved for the treatment of coronavirus and the first drug registered in Russia to treat coronavirus
Moscow, March 24, 2021 – The Russian Direct Investment Fund (RDIF, Russia's sovereign wealth fund) and ChemRar Group announce that Russian anti-COVID Favipiravir-based drug Avifavir has been registered by the National Agency of Drug and Food Control of Indonesia.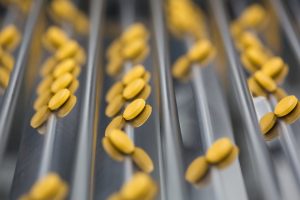 ChemRar Group is the leading Russian producer of an anti-COVID drug. Avifavir (Favipiravir) is the first Russian drug approved to treat coronavirus infection. It is also the first Favipiravir-based drug in the world approved for the treatment of COVID-19. The Russian Ministry of Health has included Avifavir in the list of vital and essential medicines and in the guidelines for the prevention, diagnosis and treatment of new coronavirus infection.
Avifavir was registered in Indonesia under an accelerated procedure based on data obtained during an extended phase II-III clinical trial, which took place in compliance with the GCP rules in April-September 2020 at 30 specialized centers throughout Russia involving 460 patients.
Results of the study showed that Avifavir demonstrated high efficiency in the complex treatment of patients taken to hospital with a new coronavirus infection, in particular:
Median elimination of the virus took four days compared to nine days with standard therapy;
Efficacy of the drug was above 80%, the criterion for a drug with high antiviral activity;
The study showed a favorable safety profile in all groups.
Constant monitoring of data is conducted on the use of Avifavir in clinical practice, which currently confirms the results obtained during the clinical trial.
Pratapa Nirmala-Fahrenheit is the partner for the registration and sales of Avifavir in Indonesia.
Since early June 2020, Avifavir has been supplied to all regions of the Russian Federation. The drug is also supplied to 15 countries around the world.
Kirill Dmitriev, CEO of the Russian Direct Investment Fund, said:
"Registration of Avifavir in Indonesia, one of the most populated nations in Asia, is an important step in providing the national health system with the leading anti-coronavirus drug. Experts in Indonesia have shown high confidence in the drug, which is registered without additional clinical trials in the country. Avifavir significantly reduces recovery time and is highly effective, allowing for faster treatment of patients and significantly reducing the burden on clinics."
Irina Tyrnova, CEO of ChemRar Research Institute, said:
"Avifavir is the world's first high-quality drug based on Favipiravir thoroughly studied and proven in a large-scale clinical trial against COVID-19. All studies were conducted in accordance with international rules, including the requirements for the preparation of reporting documents. As a result, our foreign partners successfully obtained permissions from the regulatory authorities to import and use the drug in almost any country. We hope to start supplying the drug jointly with our partner Fahrenheit soon and help patients in Indonesia to obtain access to Avafavir, one of the most efficient and well-studied drugs against coronavirus in the world."
***
Russian Direct Investment Fund (RDIF) is Russia's sovereign wealth fund established in 2011 to make equity co-investments, primarily in Russia, alongside reputable international financial and strategic investors. RDIF acts as a catalyst for direct investment in the Russian economy. RDIF's management company is based in Moscow. Currently, RDIF has experience of the successful joint implementation of more than 80 projects with foreign partners totaling more than RUB2 tn and covering 95% of the regions of the Russian Federation. RDIF portfolio companies employ more than 800,000 people and generate revenues which equate to more than 6% of Russia's GDP. RDIF has established joint strategic partnerships with leading international co-investors from more than 18 countries that total more than $40 bn. Further information can be found at www.rdif.ru
ChemRar Group unites R&D service and investment companies in the field of innovative pharmaceuticals for the development and commercialization of innovative medicines, diagnostics, preventive care and new treatments of life-threatening diseases in Russia and abroad. Further information can be found at https://en.chemrar.ru/
For additional information contact:
Elena Surina
ChemRar Group
PR Director
Mobile +7 9262067871
E-mail: es@chemrar.ru