Avifavir will be made available to outpatients free of charge for the treatment of COVID-19
Under the Government order on financing the purchase of drugs for the treatment of outpatients with the COVID-19 infection, the drug will be free of charge;
The joint venture formed by RDIF and ChemRar Group will double the drug's production volume to 200,000 packs of Avifavir per month;
The permanent registration certificate for the drug as a treatment for coronavirus was issued by the Russian Federation on the basis of successful results of extensive clinical trials involving 460 people;
Outpatients may only receive Avifavir by medical prescription.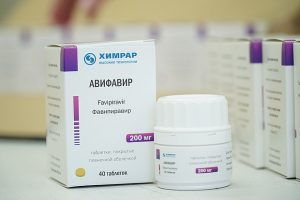 Moscow, November 6, 2020 – The Russian Direct Investment Fund (RDIF), Russia's sovereign wealth fund, and ChemRar Group announce official authorization for the outpatient use of the first Russian drug for treating coronavirus, Avifavir, which will be provided to patients free of charge. The drug is already provided free of charge under the compulsory health insurance program which patients receive for the treatment of coronavirus in clinics. 
The outpatient use of Avifavir has been made possible by the Ministry of Health of Russia's issuance of a permanent registration certificate. Avifavir will be available in the form of a medical prescription and only under strict medical supervision from the attending doctor.
The permanent registration certificate was issued on the basis of the positive results of a clinical study in the Russian Federation involving 460 patients, which proved that the drug has a disrupting effect on the reproduction mechanisms of COVID-19, thereby relieving symptoms and halving the treatment period compared with standard forms of therapy.
Avifavir is the first Favipiravir-based drug in the world approved for the treatment of COVID-19. Favipiravir-based drugs have demonstrated efficacy in three independent clinical trials in Russia involving more than 700 patients with confirmed cases of COVID-19, as well as in trials conducted in Japan and other countries. 
Chromis, the joint venture established by RDIF and ChemRar Group, will double the production of Avifavir to 200,000 packs monthly to meet demand.
Avifavir is currently delivered to 15 countries. Coronavirus infection therapy involving Avifavir requires some restrictions for family planning over a 3 month period, and the drug is also not recommended for use by pregnant women.
Kirill Dmitriev, CEO of the Russian Direct Investment Fund, commented:
"Obtaining a permanent authorization for Avifavir, paves the way for its outpatient use, which, in turn, will help to reduce the burden on medical institutions in the ongoing pandemic. The drug will be available free of charge through a medical prescription as part of the state program to fight coronavirus, and we are doubling production capacity to ensure we can comfortably meet the demand for Avifavir in Russia.»
Andrey Ivaschenko, Chairman of ChemRar Group, noted:
"Chromis, the joint venture established by RDIF and ChemRar Group, along with all other citizens of the Russian Federation, received a welcome present for National Unity Day – a permanent registration for Avifavir, which is the first drug in the world to be registered for use in fighting the novel coronavirus infection. The highly effective drug will now be available not only in hospitals, but also for outpatient use. The provision of additional funding from the state for the purchase of outpatient drugs for use in combating the coronavirus infection will also mean that people will continue to receive the drug free of charge not only in hospitals, but also through medical prescriptions for use as a home treatment."
***
Russian Direct Investment Fund (RDIF) is Russia's sovereign wealth fund established in 2011 to make equity co-investments, primarily in Russia, alongside reputable international financial and strategic investors. RDIF acts as a catalyst for direct investment in the Russian economy. RDIF's management company is based in Moscow. Currently, RDIF has experience of the successful joint implementation of more than 80 projects with foreign partners totaling more than RUB1.9 tn and covering 95% of the regions of the Russian Federation. RDIF portfolio companies employ more than 800,000 people and generate revenues which equate to more than 6% of Russia's GDP. RDIF has established joint strategic partnerships with leading international co-investors from more than 18 countries that total more than $40 bn. Further information can be found at www.rdif.ru
ChemRarGroup unites R&D service and investment companies in the field of innovative pharmaceuticals for the development and commercialization of innovative medicines, diagnostics, preventive care and new treatments of life-threatening diseases in Russia and abroad. Further information can be found at https://en.chemrar.ru/
For additional information contact:
Arseniy Palagin                                       Andrew Leach / Maria Shiryaevskaya
Russian Direct Investment Fund               Hudson Sandler
Press Secretary                                        Tel: +44 (0) 20 7796 4133 
Tel: +7 495 644 34 14, ext. 2395
Mobile: +7 916 110 31 41
E-mail: arseniy.palagin@rdif.ru
Elena Surina 
ChemRar Group
PR Director
Mobile +7 9262067871
E-mail: es@chemrar.ru
Source: https://rdif.ru/Eng_fullNews/5976/