ChemRar Group Contributes to Expanding Cooperation between Russia and Italy in Pharmaceutical and Medical Industry
ChemRar Group took part in the first pharmaceutical subgroup joint meeting of the Russian-Italian task force on industrial development and high-tech solutions, which was held in Milan on March 19–20, 2018. At the meeting, Russia was presented by a substantial delegation of executives of Russian pharmaceutical enterprises including APS Tecnologies companies of ChemRar Group, Homexpharm, X-Tech, Velpharm, and Papivino Industrial Park headed by Aleksey Alekhin, Head of Pharmaceutical and Medical Industry Department of Russian Ministry of Industry and Trade.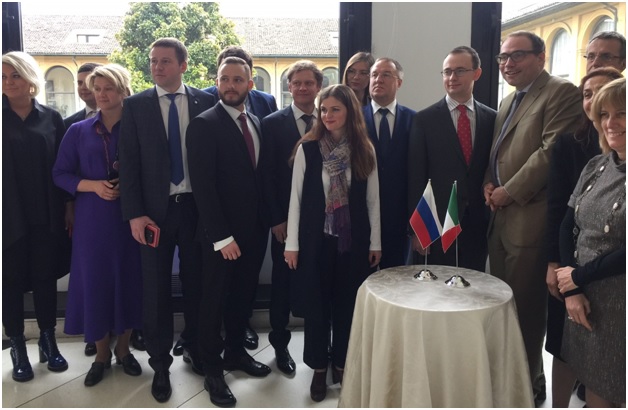 The pharmaceutical industry is an actively growing component of partnership between two countries. A number of Italian companies are seriously interested in localizing production of Italian equipment for pharmaceutical industry in Russia, which includes Russian partners's sites. During the meeting, prospects for cooperation in biotechnology, establishing joint companies and issues of technology transferring were also discussed. Russian and Italian delegations developed a joint strategic action plan to create industrial potential and reinforce cooperation in pharmaceuticals between two countries.
Italian delegation was headed by Stefano Firpo, General Director for Industrial Policy, Competitiveness, Small and Medium-sized Enterprises of Italian Ministry of Economic Development. The meeting was also attended by representatives of the Italian Association of Medicines and Equipment Manufacturers, field industrial associations and major pharmaceutical companies.
Russian delegation's program in Italy also included a production experience journey of Italian enterprises such as Zambon pharmaceutical company, Fedegari Group producing equipment for the global biopharmaceutical industry, Sentinel and Curti enterprises, etc.
Reinforcement of Russian-Italian cooperation will promote development of pharmaceutical production localization in Russia as well as technological growth of national pharmaceutical and medical industry.