ChemRar Group has become one of the First Russian Companies to bring Innovative Drugs Supported by the Pharma2020 Program to the Market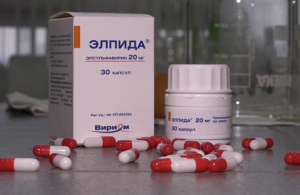 On April 18, 2018, an extended board meeting of Russian Ministry of Industry and Trade was held featuring Deputy Prime Ministers of Russian Government – Dmitry Rogozin, Arkady Dvorkovich, Olga Golodets, as well as other members of the Russian Government. At this meeting, Denis Manturov, Minister of Industry and Trade, reported on the Ministry's accomplishments in 2017 and its goals for 2018. Representatives of other federal ministries and departments, regional executive bodies, industry associations, industrial enterprises, etc., also took part in the board meeting.
The report on pharmaceutical industry's accomplishments says that the share of Russian drugs in global pharmaceutical market has been growing steadily over the past 5 years. This fact confirms that a good course was taken to transition domestic industry to an innovative development model based on internal demand generation, investment in production of drugs and medical devices, as well as international community integration, transferring advanced technology, gradually creating native infrastructure and scientific pipeline.
The report of Russian Ministry of Industry and Trade also highlights the fact that since 2009, a total of 70 competitive Russian drugs, including absolutely new molecules developed by ChemRar Group – Elpida and Gosogliptin, have been authorized and launched into the market due to the governmental support.
To recap, ELPIDA® (elsulfavirin) is the first Russian new-generation innovative antiretroviral drug, non-nucleoside reverse transcriptase inhibitor (NNIOT) in 21st century developed by Viriom in partnership with F. Hoffmann La Roche (Switzerland). The drug was authorized and approved for use by the Russian Ministry of Health in 2017. The ELPIDA® development project was approved by the Presidential Commission for Modernisation and Technological Development of Russia's Economy and implemented with support of Russian Ministry of Industry and Trade as a part of the Federal Target Program Pharma2020 and Skolkovo Foundation.
Gosogliptin is the first innovative domestic DPP-IV inhibitor intended for use in monotherapy and in combination with metformin to treat type 2 diabetes mellitus. The drug was developed and registered in Russia in 2016 by SatRx of ChemRar Group with support of Russian Ministry of Industry and Trade in cooperation with Pfizer. Gosogliptin allows to effectively decrease blood glucose level through normalization of so-called "incretin effect" generally reduced in type 2 diabetes.
In regards to 2018 goals, Ministry of Industry and Trade emphasized the importance of full-cycle drug production in Russia including substance production. "In the face of challenges afflicting modern healthcare system and the world's scientific and technological breakthroughs, Russian Ministry of Industry and Trade plans to adjust development strategies for pharmaceutical and medical industries in 2018, taking into account emerging approaches of personalized medicine, theragnostics and regenerative medicine, as well as technologies at the intersection of disciplines," – the report says.  
Broadcasts and materials of final Board of the Russian Ministry of Industry and Trade are available via the link
About ChemRar Group
ChemRar Group unites R&D service and investment companies in the field of innovative pharmaceuticals for the development and commercialization of innovative medicines, diagnostics, preventive care and new treatments for life-threatening diseases in Russia and abroad. www.en.chemrar.ru