ChemRar Group Presented Innovative Drugs at CPhI China in Shanghai
On June 20–22, 2018, ChemRar Group participated in international exhibition of pharmaceutical technologies, ingredients and products CPhI China in Shanghai as part of the united Russian exposition supported by Russian Ministry of Industry and Trade. The business mission of Russian pharmaceutical developers and manufacturers aimed to increase the export of Russian drugs and establish effective cooperation between representatives of regulatory structures of two countries, was headed by Aleksey Alekhin, Director of Pharmaceutical and Medical Industry Department of Russian Ministry of Industry and Trade. The delegation included several ChemRar Group representatives — Dmitry Kravchenko, General Director of CDRI JSC, and Natalya Rabinovich, General Director of APS Tecnologies, a pharmaceutical substances manufacturing company.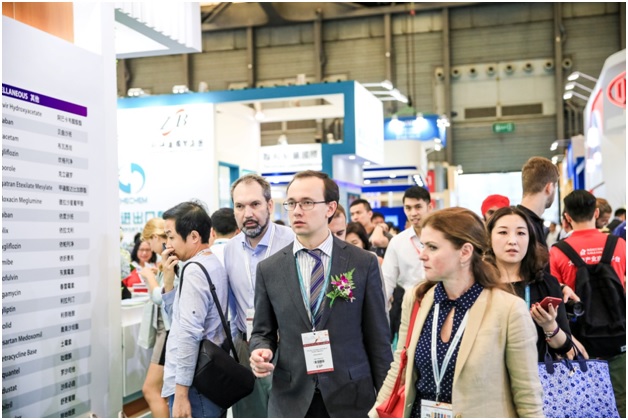 The delegation also included Sergey Sorokin, Russian trade representative in China, Vladislav Shestakov, Director of State Institute of Drugs and Good Practices, as well as representatives of Maxwell Biotech Group companies, Bright Way, Moscow Endocrine Plant, etc. The companies plan to enter and consolidate positions in the Asian market.
At the exhibition, ChemRar Group presented a number of innovative, best-in-class drugs developed with support of Russian Ministry of Industry and Trade. These drugs, including substance, are fully manufactured in Russia.
One of the drugs is Elpida® – the first innovative drug for HIV/AIDS treatment authorized in Russia in 21st century, manufactured by Viriom. Elpida® has successfully passed all clinical studies, demonstrated high benefits in terms of virologic and immunologic efficacy, safety and tolerability as compared to existing drugs, and has already been used in health institutions of our country.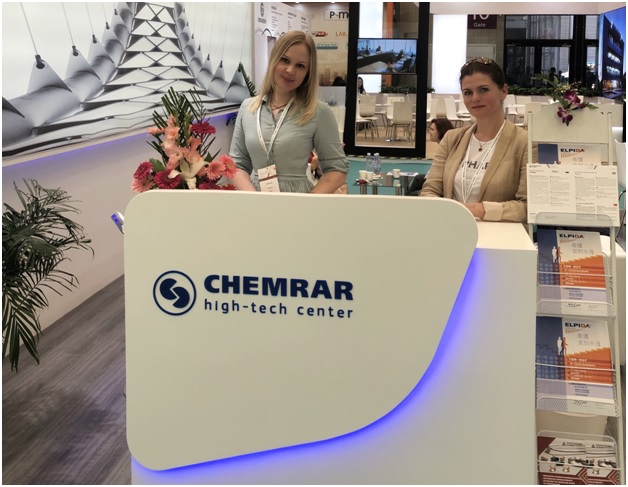 Another innovative drug is Normacor® solution for cardioplegia used in open heart surgery at normal body temperature. Normacor® allows to considerably increase the time of safe work on the arrested heart in normothermic conditions with blood cardioplegia solution. In terms of efficacy, safety, and feasibility, this is the best myocardial protection system for cardioplegia in the world today.
A prospective drug candidate, Quisinostat, a HDAC inhibitor co-developed with Janssen (the Johnson & Johnson pharmaceutical division), was presented among ChemRar Group's innovative developments. The drug showed high efficacy and favorable safety profile for patients with platinum-resistant ovarian cancer in combination with standard chemotherapy. Clinical program of Quisinostat was further developed after a publication by Canadian scientists on preclinical efficacy of this molecule in some types of sarcomas. If the drug shows efficacy in a clinical study, this will enable to accelerate its authorization in the US.
The main focus area for ChemRar Group is developing and commercializing innovative pharmaceuticals, diagnostic and prevention tools, and new treatment technologies in Russia and other countries. Innovation and high quality standards of drug research allow ChemRar to compete not only in the domestic market, but globally. Chinese pharmaceutical market, which is already the second largest market in the world, demonstrates significant growth over the past few years due to active government policy. As Russia, today China has a very serious local competition in production of generics. In this context, local companies gradually put European countries out of business. But as for their own innovative, including biotechnological, drugs it is still not the point.  Therefore, in China in the near future, the demand for innovations will grow, and this is a good chance for Russian developers to enter one of the world's fastest growing markets with their innovative products.
About ChemRar Group
ChemRar Group unites R&D service and investment companies in the field of innovative pharmaceuticals for the development and commercialization of innovative medicines, diagnostics, preventive care and new treatments for life-threatening diseases in Russia and abroad. www.en.chemrar.ru