"ChemRar" RDI invites pharmaceutical companies and research institutes for anti-COVID-19 drug discovery international cooperation
Research and Development institute "ChemRar" has created a unique platform for innovation drug discovery against novel coronavirus infection. The platform includes library of pharmaceutical relevant antiviral (SARS-CoV-2) small molecules, methods of virtual screening and in-vitro assays allowing to identify the active compounds in high-throughput format with subsequent in-vivo confirmation. Thus, the CoV in-vitro screening platform provides the validated pre-clinical candidate from one contractor just in few months. The completeness and speed of work completion are the undeniable advantages of this service.
The platform consists of:
The library of potential anti-viral small molecules (13 000 cmpds)
CPE test with virus SARS-CoV-2
Proteases assays (3CL and PLpro)
Polymerase assay (RdRp)
ACE2-Spike S1 assay
In-vivo hamster`s model
ADME
Chem optimization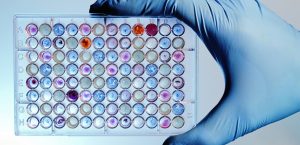 "ChemRar" Group provides researches and development in the fields of medical and pharmaceutical chemistry throughout 30 years. The team of world-class scientists and specialists forms the global leadership of company.
Since the pandemic of novel coronavirus infection begins, "ChemRar" Group completed the full cycle of development one of the first antiviral drug Avifavir (Favipiravir).  The full process: from pre-clinical studies to substance pharmaceutical development was completed in record time. Starting from June 11 Avifavir supplied in hospitals to 50 Russian regions. Also, the international drug supply has started.
Earlier "ChemRar" Research institute created and tested more than 10 antiviral drug candidates except Favipiravir. That is why the company decided to continue the anti-CoV drug development program by initiation of drug discovery platform.
Irina Tyrnova, CEO of "ChemRar" RDI said:
"The CoV in-vitro screening platform is the world`s first integrated service for small molecule identifying, that will allow to find the new approaches for drug discovery against novel coronavirus infection. We invite to international cooperation the partners interested in innovative antiviral pipeline expansion."
ChemRar Group unites R&D service and startups companies in the field of innovative pharmaceuticals for the development and commercialization of novel medicines, diagnostics, preventive care and new treatments of life-threatening diseases.
For more information see: https://sars-cov2-platform.chemrar.ru