Scientific review: Favipiravir as a treatment for RNA viruses, including COVID-19
Favipiravir, developed in Japan to treat influenza and other RNA-viral infections, in 2020–2022 was widely used to treat the novel coronaviral infection in Russia, China, India, Turkey, and many other countries. By now, a host of information has been accumulated in the scientific literature that covers various aspects of favipiravir pharmacology including methods of production, mechanisms of antiviral action, in vitro and in vivo activity, clinical efficacy, and safety. This review offers key information on the said aspects and is focused on the medicinal product's use for COVID-19 treatment. This is a brief comparative analysis of favipiravir versus other direct antiviral-action agents used to treat COVID-19. Having used a vast array of literature data, the review authors demonstrate the substantial and versatile potential of this molecule, unique in many aspects.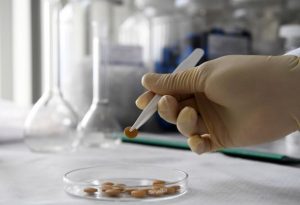 Below are the keynotes of the review study.
Favipiravir's mechanism of action is related to the inhibition of the coronaviral RNA-dependent RNA-polymerase (RdRp).
Favipiravir is a prodrug which active cell metabolite favipiravir ribosyl triphosphate has a unique mechanism of action. The way of biochemical intracellular activation of favipiravir is unique among all known nucleoside-based antiviral agents or the analogs thereof and includes a step where the pseudo-nucleic pyrazine base undergoes phosphoribosylation. This aspect results in an enhanced metabolic cell control that allows for the reduction of adverse effects of the treatment, minimization of the potential for resistant strains emergence, and reduction of costs of the pharmaceutical substance production; the disadvantage is a lower total yield of the active metabolite on the primary favipiravir basis and the large doses of the medicinal product required.
Unlike most other inhibitors of the viral RNA-dependent RNA-polymerase, favipiravir is not only the terminator of the replicating RNA chain but it also introduces mutations that are lethal for it. Due to the specific spatial interaction of a favipiravir fragment with the RNA-polymerase complex, the introduced mutations circumvent the mechanisms of the viral control of the reading correctness which results in RNA replicas that are incompatible with the continuation of the RNA virus life cycle. The third mechanism is the competitive inhibition of the active RdRp center which results in the inhibition of the viral genome replication.
Through its effect on the highly conservative mechanisms of RNA virus replication, favipiravir's action spectrum is very broad. Its high efficacy against influenza, Ebola, SARS-CoV-2, and many other viruses was demonstrated. Another advantage of the action on the highly conservative replication systems is that the medicinal product is highly robust against the resistance evolution which sets it apart from not only highly specific bioproducts (e. g., antibodies, siRNA, etc.) but also from many other nucleoside analogs the clinical resistance to which is developed in rapidly emerging strains. RNA viruses are specific for the ability of rapid mutation since viral RNA polymerase is prone to a high rate of replication errors.
A number of clinical trials in 2020–2022 have provided evidence of the efficacy and safety of favipiravir as a treatment for COVID-19. With a timely therapy initiation, the medicinal product significantly increases survival rate and reduces viral load, need for artificial lung ventilation, and length of hospital stay. There is a fair potential for the development of efficacious products in combination with other antiviral agents, as well as modified delivery formulations.
Favipiravir is available in a convenient oral presentation and has a favorable pharmacokinetic profile. Moreover, favipiravir has a good safety profile as compared with other antiviral agents. In clinical settings, a number of adverse effects were observed, the most common of which is hyperuricemia. However, most of these are transitory. Like most other agents, favipiravir is not recommended to be taken during pregnancy. Despite a rather high dosage, no fatal outcomes related to the medicinal product administration were registered throughout the many years of its use in clinical practice.
A number of efficient approaches to the product synthesis were developed that are suitable for commercial-scale production. Because of the low cost of the pharmaceutical substance, favipiravir has substantial advantages in large-scale use versus expensive biotech agents and most synthetic low-molecular-weight agents (e. g., Remdesivir). This is especially important in the context of the pandemic.
There are certain limitations on the use of favipiravir. Animal models shown such adverse effects as teratogenicity and embryotoxicity. Despite the emerging clinical evidence of the lack of the teratogenic effect, the effective clinical recommendations exclude favipiravir administration in pregnant women. Clinical trials also showed that the medicinal product had a limited efficacy at the late stages of COVID-19 characterized by florid symptoms, as well as in patients at risk for comorbidities or old age. The said limitations call for thorough monitoring of the clinical use of the medicinal product and for further studies.
The comparative analysis versus other authorized direct-action antiviral agents suggests favipiravir has both certain advantages and some disadvantages. Remdesivir and Molnupiravir are the closest to favipiravir nucleoside analogs in terms of mechanism of action that were authorized for COVID-19 treatment in several countries. Neither of the two said products are free from substantial flaws that put significant limitations on their use. Thus, Remdesivir's disadvantages are its injection presentation that is not very convenient, rather low efficacy, the likelihood of resistant pathogens emergence, serious adverse effects, and high cost. Molnupiravir, being an N-hydroxycytidine derivative, has a distinct mutagenic effect on mammalian cells, while there is evidence of its low efficacy in moderate to severe COVID-19. Both products were authorized for clinical use under emergency use authorization; therefore, to date, many key aspects of their efficacy and safety are still understudied. Another agent that employs an alternative mechanism of action, i. e. viral protease inhibition, is Paxlovid. Given contradictory information, Paxlovid's clinical efficacy and safety are still subject to discussion in the scientific and industry communities. The choice of a medicinal product for the therapy should be based on the analysis of the confluence of factors such as pharmacological, clinical, and pharmacoeconomic.
All facts considered, the theoretical and experimental evidence accumulated to date shows that favipiravir is an effective tool in the modern healthcare armamentarium and is capable of contributing to the COVID-19 pandemic management. This avenue of research is actively pursued.