Fingolimod Administration after Natalizumab in Patients with Remittent Multiple Sclerosis
BioInegrator, the company of the ChemRar Group, participated in the School on Demielinising and Neurodegenerative Diseases Scientific and Practical Conference, having become one of its sponsors. The event was held on May 25–26 in Krasnoyarsk.
Infectious complications of the second-line DMT, in particular, the Progressive Multifocal Leukoencephalopathy (PML), which occur in patients receiving the treatment with Natalizumab, was one of the key topics of the school. PML is a rapidly progressing demielinising infectious disease of central nervous system with asymmetric brain impairment. It is caused by activation of JC human polyomavirus, which is borne by about 80% of the human population. PML leads to asymmetric brain impairment and has poor prognosis. To date, prevalence of such complications when treated with Natalizumab is 4 per 1,000 patients. Unfortunately, in 2018, the first death due to PML was reported in one of regions of Russia.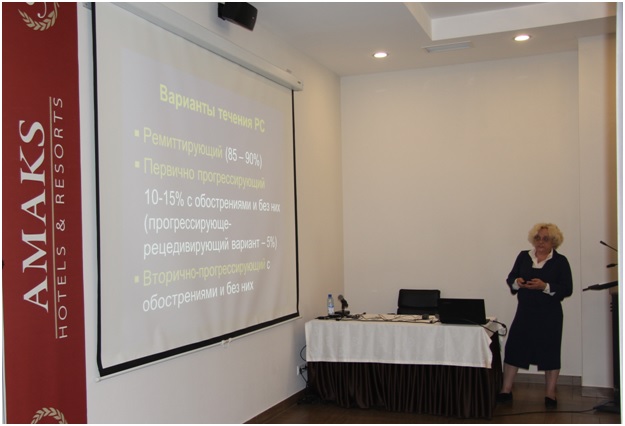 Maria Zakharova, Head of the Multiple Sclerosis Federal Center of the Research Institute of Neurology of RAMS
Head of the Multiple Sclerosis Federal Center of the Research Institute of Neurology of RAMS, MD. Maria Zakharova noted that PML risk in patients with remittent multiple sclerosis when treated with Natalizumab increased after 2 year of therapy. Medical professionals require drugs with a potential for an adequate therapy replacement.
Recommended therapy of choice after Natalizumab is Fingolimod. As a part of section devoted to the treatment of choice for patients with multiple sclerosis, Lola Askarova, Can. of Med., highlighted the importance of washout period after the administration of Natalizumab. The most of experts recommend continuing the therapy of such patients with second-line drugs, which include Fingolimod. "Fingolimod is considered well-studied second-line DMT with good tolerability, used as the treatment for remittent multiple sclerosis," – Lola Askarova noted.