RDIF and ChemRar begin deliveries of Avifavir to South Africa through 3Sixty Biopharmaceuticals
Moscow, August 3, 2020 – Chromis, a joint venture established by the Russian Direct Investment Fund (RDIF), Russia's sovereign wealth fund, and ChemRar Group, announce the signing of a distribution agreement with South Africa's 3Sixty Biopharmaceuticals, a subsidiary of 3Sixty Global Solutions Group, to deliver Avifavir, the first Russian anti-COVID drug, to South Africa.
The country has recently seen a rapid increase in the number of patients with coronavirus infection and in terms of infections, South Africa currently ranks 5th globally.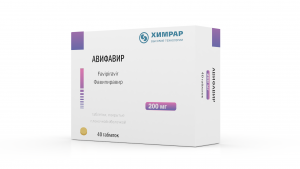 Avifavir (Favipiravir) is the first Russian drug approved to treat coronavirus infection. It is also the first Favipiravir-based drug in the world approved for the treatment of COVID-19. The Ministry of Health has included Avifavir in the seventh edition of its guidelines for the prevention, diagnosis and treatment of new coronavirus infection COVID-19. Avifavir has already been delivered to 50 Russian regions as well as Belarus and Kazakhstan.
Favipiravir-based drugs have demonstrated efficacy in three independent clinical trials held in leading medical centers across Russia, involving 700 patients with confirmed cases of COVID-19. The drugs disrupt the reproduction mechanisms of the coronavirus, relieving symptoms and halving the treatment period compared to standard therapy.
3Sixty Biopharmaceuticals had earlier signed an agreement to import Remdesivir to South Africa, which is injected intravenously in hospitals. However, because South Africa has a shortage of hospitals it needs other effective ways to treat patients with COVID-19. Avifavir is effective in the early and middle stages of infection. Treatment of outpatients with Avifavir can help decrease the number of hospital admissions and reduce the burden on the healthcare system.
Kirill Dmitriev, CEO of the Russian Direct Investment Fund, said:
"South Africa is the second BRICS state after Brazil to which RDIF and ChemRar have agreed to supply Avifavir. Thanks to the agreement with 3Sixty Biopharmaceuticals, doctors in South Africa will obtain an effective tool to treat patients at an early stage, preventing the progression of the disease and risk to the lives of patients."
Andrey Blinow, CEO of Chromis, said:
"We are producing sufficient quantities of Avifavir to meet the demand of Russia's healthcare system. This allows us to supply the drug to other countries without compromising domestic demand. South Africa is going through hard times with the coronavirus crisis and we are eager to fulfill the request of our partners for the drug. We hope they will be able to stop the spread of the virus in the country and save many lives."
***
Russian Direct Investment Fund (RDIF) is Russia's sovereign wealth fund established in 2011 to make equity co-investments, primarily in Russia, alongside reputable international financial and strategic investors. RDIF acts as a catalyst for direct investment in the Russian economy. RDIF's management company is based in Moscow. Currently, RDIF has experience of the successful joint implementation of more than 80 projects with foreign partners totaling more than RUB1.9 tn and covering 95% of the regions of the Russian Federation. RDIF portfolio companies employ more than 800,000 people and generate revenues which equate to more than 6% of Russia's GDP. RDIF has established joint strategic partnerships with leading international co-investors from more than 18 countries that total more than $40 bn. Further information can be found at www.rdif.ru
ChemRar Group unites R&D service and investment companies in the field of innovative pharmaceuticals for the development and commercialization of innovative medicines, diagnostics, preventive care and new treatments of life-threatening diseases in Russia and abroad. Further information can be found at https://en.chemrar.ru/
3Sixty Biopharmaceuticals (Pty) Ltd is a South African company based in Johannesburg, the commercial hub of South Africa. The company is committed to the development and commercialization of South African intellectual property and it seeks to achieve this either by itself or through collaboration with principals both from the private and/or public sector. Further information can be found at http://3sixtybiopharma.co.za
For additional information contact:
Elena Surina
ChemRar Group
PR Director
Mobile +7 9262067871
E-mail: es@chemrar.ru