RDIF and ChemRar to deliver Avifavir to seven countries in Latin America
Moscow, August 3, 2020 – Chromis, a joint venture established by the Russian Direct Investment Fund (RDIF), Russia's sovereign wealth fund, and ChemRar Group, announce the signing of an exclusive agreement with Bolivia's Sigma Corp S.R.L. (Industria Quimico Farmaceutica Sigma Corp S.R.L.) to deliver the first Russian anti-COVID drug Avifavir to Argentina, Bolivia, Equador, El Salvador, Honduras, Paraguay and Uruguay.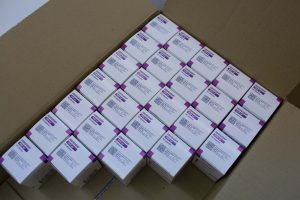 Under the agreement at least 150,000 packs of Avifavir will be exported, and the technology for the production of the finished dosage form will be transferred to the partner's manufacturing site in Bolivia.
The signing ceremony took place on July 29, 2020 via a video conference attended by the CEOs of both the Russian and Bolivian parties.
Avifavir (Favipiravir) is the first Russian drug approved to treat coronavirus infection. It is also the first Favipiravir-based drug in the world approved for the treatment of COVID-19. The Ministry of Health has included Avifavir in the seventh edition of its guidelines for the prevention, diagnosis and treatment of new coronavirus infection COVID-19. Avifavir has already been delivered to 50 Russian regions as well as Belarus and Kazakhstan.
Favipiravir-based drugs have demonstrated efficacy in three independent clinical trials held in leading medical centers across Russia, involving 700 patients with confirmed cases of COVID-19. The drugs disrupt the reproduction mechanisms of the coronavirus, relieving symptoms and halving the treatment period compared to standard therapy.
Kirill Dmitriev, CEO of the Russian Direct Investment Fund, said:
"Via our partnership with Sigma Corp S.R.L. we will provide hospitals in a number of Latin American countries with one of the most efficient anti-COVID drugs in the world. In addition to the drug exports, we will also transfer the technology for producing the finished dosage form, which will reduce the waiting period and cut the logistics costs, as well as the time needed to introduce Avifavir in coronavirus treatment practices."
Andrey Blinow, CEO of Chromis, said:
"We are very pleased to have such a multilateral partnership with Sigma Corp S.R.L, one of the leading pharmaceutical companies in Latin America, which is based not solely on the supply of our drug to meet the urgent current needs of the healthcare systems of the countries entering the agreement. We also have a lot of joint work to do to transfer the production technology for the finished dosage form in order to ensure a high level of quality, safety and efficacy of the drug, which is a critical and mandatory condition for the production and sale of Avifavir in Russia."
Gary Enrique Gonzales Wilstermann, Director of Pharma Division, Sigma Corp S.R.L., said:
"Our company has more than 43 years of experience in the production of pharmaceutical products and more than 60 years in the imports of pharmaceutical and health products. In times of COVID-19 pandemic, our main objective has been to create and develop different products to help people fight the virus. It is an honor for us to become a partner of RDIF and ChemRar, who have developed one of the first anti-COVID drugs in the world."
***
Russian Direct Investment Fund (RDIF) is Russia's sovereign wealth fund established in 2011 to make equity co-investments, primarily in Russia, alongside reputable international financial and strategic investors. RDIF acts as a catalyst for direct investment in the Russian economy. RDIF's management company is based in Moscow. Currently, RDIF has experience of the successful joint implementation of more than 80 projects with foreign partners totaling more than RUB1.9 tn and covering 95% of the regions of the Russian Federation. RDIF portfolio companies employ more than 800,000 people and generate revenues which equate to more than 6% of Russia's GDP. RDIF has established joint strategic partnerships with leading international co-investors from more than 18 countries that total more than $40 bn. Further information can be found at www.rdif.ru
ChemRar Group unites R&D service and investment companies in the field of innovative pharmaceuticals for the development and commercialization of innovative medicines, diagnostics, preventive care and new treatments of life-threatening diseases in Russia and abroad. Further information can be found at https://en.chemrar.ru/
Sigma Corp S.R.L. was founded in 1976, it is a leading Bolivian company manufacturing and distributing pharmaceutical and nutraceutical products. Sigma Corp. SRL specializes in the production of a wide range of prescription drugs — antibiotics, analgesics, antiemetic, antiparasitic and other drugs for the normalization of the gastrointestinal tract fuction as well as drugs for ophthalmology and cardiology.
For additional information contact:
Elena Surina
ChemRar Group
PR Director
Mobile +7 9262067871
E-mail: es@chemrar.ru