RDIF and ChemRar warn of counterfeit Favipiravir-based drugs
Moscow, June 8, 2020 — The Russian Direct Investment Fund (RDIF), Russia's sovereign wealth fund, and the ChemRar Group note increasingly frequent cases of fraud related to the sale of drugs based on the Favipiravir active ingredient.  
Scammers have created a number of fake websites and are posting private adverts on well-known websites, selling drugs allegedly based on Favipiravir and produced in China or Japan that contain no active ingredient. Therefore, these drugs cannot help in coronavirus therapy.
In this regard, RDIF and the ChemRar Group of Companies announce that:
Currently the legal purchase in Russia of drugs based on Favipiravir of Japanese or Chinese origin is impossible due to the absence of official deliveries of the drug from abroad.
The ChemRar Group is the exclusive manufacturer and supplier of a Favipiravir-based drug in Russia, produced under the Avifavir trademark.
To contact ChemRar, please visit: http://chemrar.ru/kontakty
The drug cannot be purchased in the open market; it is provided to patients in hospitals only under a doctor's supervision. Patients with coronavirus infection will receive Avifavir starting June 11, 2020.
Dmitry Kravchenko, DSc, President of the Chemrar Group, said:
"Since March this year, we have purchased and analyzed a large number of samples marketed as Japanese or Chinese medicines based on Favipiravir, where experts could not identify the active ingredient in any of them. In particular, we want to warn unsuspecting citizens against buying Favilavir allegedly produced by HISUN, a Chinese company that produces Favipiravir under the license of Japanese company FUJIFILM Toyama Chemical Co, Ltd., as this is a fake."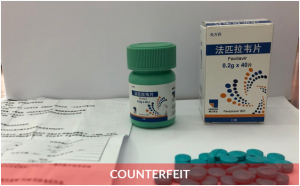 ***
Russian Direct Investment Fund (RDIF) is Russia's sovereign wealth fund established in 2011 to make equity co-investments, primarily in Russia, alongside reputable international financial and strategic investors. RDIF acts as a catalyst for direct investment in the Russian economy. RDIF's management company is based in Moscow. Currently, RDIF has experience of the successful joint implementation of more than 80 projects with foreign partners totaling more than RUB1.8 tn and covering 95% of the regions of the Russian Federation. RDIF portfolio companies employ more than 800,000 people and generate revenues which equate to more than 6% of Russia's GDP. RDIF has established joint strategic partnerships with leading international co-investors from more than 15 countries that total more than $40 bn.
RDIF takes active steps to counteract COVID-19:
RDIF and partners have launched the production of the unique Russian-Japanese EMG diagnostic system, which generates results in 30 minutes with a very high accuracy in both stationary and unmatched portable mini-laboratories. The Japan Bank for International Cooperation has joined the project through the Russia-Japan Investment Fund;
RDIF and the ChemRar Group have started the mass-scale production of Avifavir, which has proven effective against coronavirus in clinical trials has become the first in Russia and of the first special drugs in the world for coronavirus therapy;
RDIF has launched a project to diagnose and detect pneumonia, including that caused by coronavirus, using CT scans combined with the Russian-UAE artificial intelligence (AI) technology developed jointly by Group 42 (G42), RDIF and Medscan Group;
RDIF has provided support to the public in observing the lockdown restrictions and self-isolation regime, driving a several-fold increase in telemedicine consultations via the Doctis service, as well as in access and subscriptions to the ivi online media library, delivery of Elementaree meal kits and demand for products and services of other RDIF portfolio companies;
The Mother and Child Group, an RDIF's portfolio company, has repurposed its largest clinical hospital Lapino to treat patients with COVID-19
RDIF was one of the initiators of the Alliance against coronavirus, which also includes the Russian Union of Industrialists and Entrepreneurs (RUIE), Yandex, Mail.ru Group and the Rossiya Segodnya international news agency. RDIF is actively involved in key initiatives and charity projects.
Further information can be found at www.rdif.ru
ChemRar Group unites R&D service and investment companies in the field of innovative pharmaceuticals for the development and commercialization of innovative medicines, diagnostics, preventive care and new treatments of life-threatening diseases in Russia and abroad.
ChemRar Group celebrates its 30th anniversary in 2020. Throughout its history, the company has maintained and improved the achievements and quality of its medical chemistry and has built a team of world-class employees and scientists. Their efforts have made ChemRar one of the global leaders in the industry today.
Further information can be found at https://en.chemrar.ru/
For additional information contact:
Elena Surina
ChemRar Group
PR Director
Mobile +7 9262067871
E-mail: es@chemrar.ru