The results of the IPHARMA clinical trials were presented at the 21st Russian Oncology Congress
On November 14–16, the 21st Russian Oncology Congress was held in Moscow. It is the largest international event in the field of oncology, which is attended by over 5,000 doctors annually.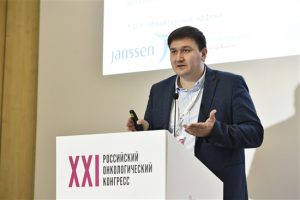 The permanent organizers of the Congress: N.N. Blokhin Russian Cancer Research Center and the Russian Society of Clinical Oncology under the aegis of the Russian Oncology Association.
The following issues were discussed this year:
National Anticancer Program. How will Russian oncology benefit from it?
Regional problems of oncology
How can we bring together clinical guidelines and standards of care?
Problems of specialist training
What does the Russian pharmaceutical industry expect from the national anticancer program?
Russian innovations in drug development and cancer treatment were presented at the Skolkovo Foundation session on November 15.
The results of a multicenter phase II trial of the administration of quisinostat (HDAC1 inhibitor) in combination with cisplatin and paclitaxel in women with platinum-resistant recurrent ovarian cancer were also presented during the session. The report was presented by Mikhail Fedyanin, Candidate of Medical Sciences, oncologist of Department of Clinical Pharmacology and Chemotherapy at N.N. Blokhin RSCC.
Quisinostat (a histone deacetylase inhibitor, HDAC) is a new-generation drug developed by the Russian pharmaceutical company NewVac (ChemRar Group) in association with Janssen Pharmaceutica (Johnson & Johnson LLC), which is notable for a longer effect and a possibility to administer it in tablet form.