The accelerator BioBridge-2019 expands its partner network in Europe
On March 14–15, 2019, the key sponsors of the acceleration program BioBridge-2019 — representatives of ChemRar Group and RDI Group — conducted several meetings and negotiations with Austrian partners, including Vienna Business Agency, which provides comprehensive support to companies willing to run business in Austria, and also visited the Selection Day at Health Hub Vienna, one of the leading European accelerators. The purpose of the visit to Vienna was to develop relations with the specialized expert and business community, and to share best acceleration practices.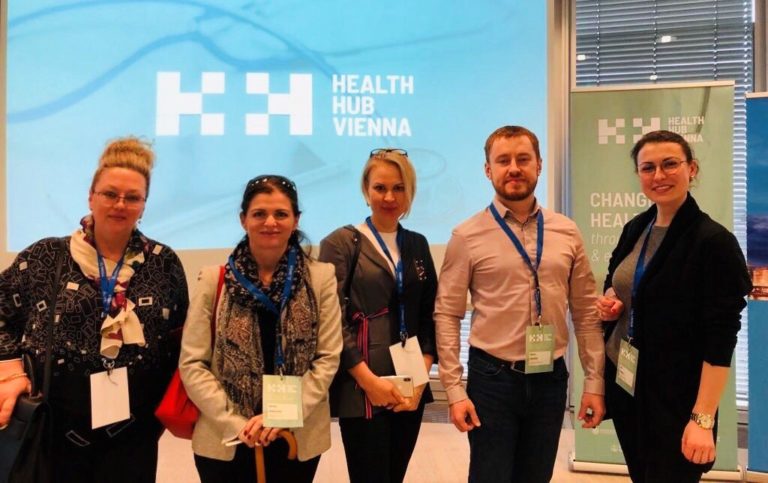 Photo: Key sponsors of BioBridge-2019: representatives of ChemRar Group and RDI Group on HH Vienna.
The finale of the acceleration program BioBridge-2019 is going to be held in Vienna (Austria) during the viennacontemporary art fair. On average, only 10–15 biopharmaceutical startups will be picked up for the accelerator program — such a small number of teams will help them work closer with the mentors and experts who, in turn, will try to do their best to level up these startups and make them successful.
Distant project selection process will begin in the end of March and continue until mid-June.
BioBridge-2019 tracks:
Discovery: In-vitro developments — innovative mechanisms of action and biotargets
Development: Innovative in-vivo pharmaceutials — proof-of-concept in pre-clinical studies;
Go2Market: Innovative projects in clinical development — proof-of-concept in clinical studies, Russia and EU market entry;
Digital Drugs: Innovative treatment methods and digital drugs using AI and big data.
Please submit attendance forms for the acceleration program to Andrey Sizyukhin at sa@chemrar.ru
Partners seeking to extend their portfolios with innovative products are also welcome to participate.
Please submit partner attendance forms to Irina Tyrnova at it@chemrar.ru
Information partnership: Elena Surina es@chemrar.ru