The international expert community highlights the efficacy and safety of Avifavir in COVID-19 treatment
The results of the two phases of the clinical trial of Avifavir for coronavirus treatment were presented at the "COVID-19: Pandemic of the XXI Century" International Congress held in Ufa on November 13–14. More than 3,500 experts from 8 countries (Russia, China, USA, Germany, Uzbekistan, Kazakhstan, Tajikistan, and Ukraine) took part in the Congress.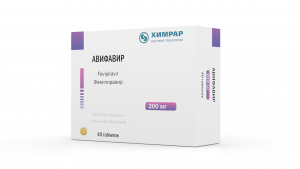 The reports of the experts and participants during the research and practical conference were devoted to the important aspects and trends in fundamental immunology, modern medical genetics, and infectology. They focused on the modern methods of diagnosis and management of COVID-19, a virus that currently poses a great danger and a threat to human lives.
During the conference, the experts were discussing the results of Phases II–III of the clinical trial of favipiravir-based Avifavir for the treatment of patients with coronavirus infection. Avifavir was first developed and licensed as commercial drug by ChemRar Group with the support of the Russian Direct Investment Fund and the Ministry of Industry and Trade of Russia. The permanent Marketing Authorization was obtained based on the clinical trial data covering 460 patients, which proved the drug's ability to block the replication mechanisms of coronavirus, alleviate symptoms and reduce the duration of the disease by half compared to the conventional therapy. This clinical trial has been conducted in 35 medical centers across Russia.
The Head of R&D at the University Hospital of Ufa, Professor, Doctor of Medicine B.A. Bakirov emphasized in his report that Avifavir has demonstrated high efficacy and tolerance during the comparative multi-center clinical trial. Since the conducted trial fully meets the international scientific and medical requirements, these results can be submitted to the regulatory authorities for obtaining permission to use Avifavir in foreign countries.
Bulat Akhatovich Bakirov, Doctor of Medicine, Professor, Head of the Department of Hospital Therapy No. 2 in Ufa:
"Avifavir has shown efficacy in the combined treatment of patients hospitalized with the new coronavirus infection, especially in improving their physical condition. The Ministry of Healthcare of Russia approved the permanent Marketing Authorization of Avifavir, so this drug can now be used both in the outpatient and inpatient conditions from the very first days of the disease."
Since June, about 100,000 Avifavir courses have been delivered to Russian medical institutions, while its clinical monitoring is being conducted based on the data from the coronavirus patients register of the Ministry of Healthcare of Russia, and the results obtained during the clinical trial have been fully confirmed.
The video of the speech delivered by Prof. Bakirov can be found here.
About ChemRar Group
ChemRar Group (www.chemrar.ru) brings together research, manufacturing, and investment companies in the field of innovative pharmaceuticals for the development and commercialization of innovative pharmaceuticals, diagnostic tools, disease prevention, and offering new treatments for life-threatening diseases both in Russia and abroad.