Viriom Presented the Results of VM-1500A-LAI Studies on International HIV Conference in Hong Kong
In June 28–30, Viriom Company of High-Tech ChemRar Centre, a resident of biomedicine technologies cluster of Skolkovo Foundation, presented the results of pre-clinical studies of VM-1500A-LAI drug at the International Asian-Pacific Conference on HIV infection in Hong Kong (APACC 2018).
This is a long-acting injection formulation of active elsulfavirin component, a new generation non-nucleoside reverse transcriptase inhibitor (NNRTI) which is characterized by increased resistance barrier and the absence of cross-resistance with the other NNRTIs. The drug was authorized in 2017 in Russia as oral capsules under the brand name ELPIDA®.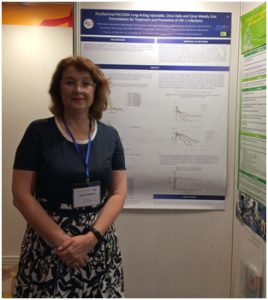 After oral administration, Elsulfavirin (pro-drug) is rapidly metabolized in liver into the active metabolite, VM-1500A, which has a long half-life (7–9 days) due to a temporary VM-1500A deposit in erythrocytes with following slow plasma release and impact on target cells, i.e. virus-containing lymphocytes. Particular VM-1500A pharmacokinetic profile served as a basis for the development of innovative prolonged drug formulations with monthly dosing regimen, which can be used as a supportive HIV therapy increasing patients' adherence to the therapy.
The study results presented at the conference (findings on pharmacokinetics of aqueous elsulfavirin/VM1500A nanosuspensions in blood plasma and in erythrocytes) confirm the possibility of long-term maintenance of active drug concentration in blood (for 1 month and longer).
VM-1500A-LAI development project is performed with the support of the Skolkovo Foundation. In the near future, it is planned to launch a phase I clinical study in healthy volunteers.
About Viriom
Viriom is a company at ChemRar High-Tech Center, involved in the development of innovative drugs for HIV, hepatitis C and influenza treatment. Viriom, oriented toward top world standards, aimed at improvement of treatment outcomes and patients' quality of life, improved access to treatment for all patients who need it, reduction of the burden and fully curing socially significant infections. www.viriom.ru