biobridge-2019 will reward the finalist of the Startup Rally on the Demo Day in Vienna
The international accelerator biobridge-2019 has established a special nomination for the finalists of the Startup Rally competition in the field of innovative drugs and medical devices — the winner will be invited to the Demo Day at biobridge-2019 in Vienna (Austria), where the team will be able to present their projects to Russian and European investors. The Demo Day at biobridge 2019 will take place on September 27, 2019, at the Marx Halle exhibition space as part of the viennacontemporary art fair, one of the TOP-15 international contemporary art fairs with more than 100 galleries from 24 countries.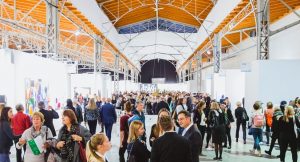 50+ experts and investors from Russia and Europe have already confirmed their participation in the Demo Day at biobridge-2019, including Sir Konstantin Novoselov, winner of the 2010 Nobel Prize in Physics and the head of the expert council, who is passionate about contemporary art. His works will be demonstrated on the special exhibition at biobridge-2019 along with other art projects created in collaboration with the pharmaceutical startups from the accelerator.
This is a fascinating and creative event for the R&D venture market of innovative pharmaceuticals and new treatment methods in both Russia and Europe. The key idea behind the event is that art unites all aspects of our lives and attracts creative artists, scientists, businessmen, politicians, philanthropists, investors and other business elite representatives — this is why technological and business events are conducted here in parallel with the modern art exhibition.
On September 17, 2019, the representatives of biobridge-2019 at the Startup Rally finale of the BIOTECHMED 2019 Forum will choose the winner from among the contestants and give the winning team an invitation certificate for the participation in the Demo Day in Vienna at the accelerator's expense. See you in Gelendzhik and Vienna!